Argent, on a cross gules five mullets or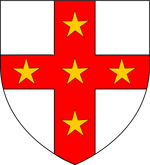 Original blazon: Ar. on a cross gu. five mullets or.
Crest: -
Supporters: -
Motto: -
Notes:
Sir John Abadam, Baron of Beverston, co. Gloucester; summoned to Parliament temp. Edward I
In the ancient painted glass in Tidenham church, Gloucestershire, the mullets are pierced of the field.
The heiress of Abadam, m. Tomlin Huntley.
Source: Burke's General Armory (1884)